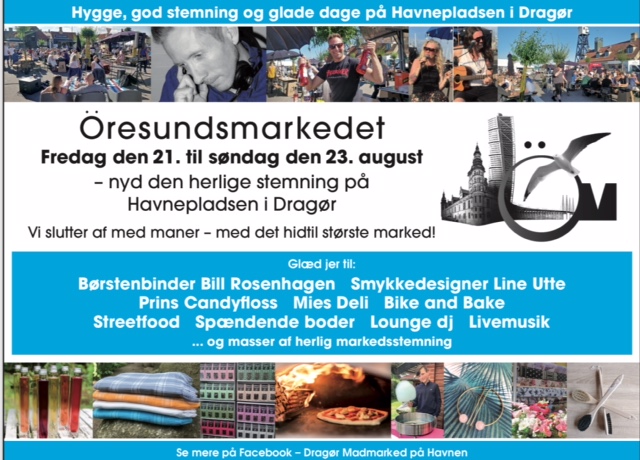 The Öresund market is holding a bang of a season finale at the Port of Dragør in the weekend 21-23 August 2020
The weekend offers repeat visitors from the season's stallholders, a number of new acquaintances, among others you can meet Bill Rosenhagen, one of only a handful of remaining brush binders in Denmark, who if the weather otherwise allows it will hold an open workshop.
Also meet the jewelry designer Line Utte, who excites her audience with stylish designs, Mies Deli, which makes the most delicious organic liqueurs, gin, oils, etc., Bike and Bake, who has been a guest on the market all seasons with the completed delicious pizza bike from which he delivers the most amazing pizzas from a wood-fired oven, and last but not least the Öresund market's youngest participant so far, local Noah Ibing, only 13 years old, who under the name Prince Candyfloss has finally had time to join.
Our Street Food area has been given an extra boost and the bar delivers everything the heart desires.
The music is provided by a number of local constellations from Dragør, all of which have helped to create a good atmosphere during the summer, and programs look like this:
Friday at 17. Live: Johansen & Sune Grip Trio
Saturday: 5 pm live: Sune Grip & Eamonn duo
Sunday at 16:30 live: closing concert with the 3 maybe 4
Local DJ Nick Rendbæk, who last got excited with crisp tones, plays both Friday and Sunday
Opening hours are:
Friday: 12:00 to 22:00
Saturday: 10:00 to 22:00
Sunday: 10:00 to 22:00